Your Next Golf Trip in the Era of Coronavirus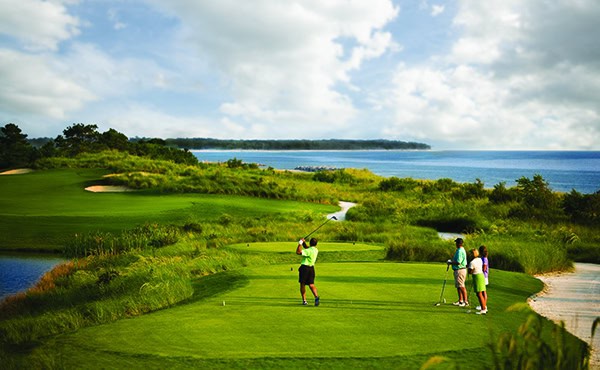 Your golf game was starting to awaken from its winter slumber. The annual spring golf trip was just a few weeks away and wham, Coronavirus. The world is turned upside down. The golf trip disappears with our new reality of living in a pandemic.
Fast forward to today, now our country and much of the world are beginning to re-open. The golf itch is still there but is it time to go on that golf trip? Is it safe to go?
Many are saying yes but have questions about what to expect?
What are Virginia Golf courses doing to make golf safer?
All courses in Virginia were allowed to remain open, with restrictions, when many states ordered closure of their golf courses. Virginia Golf course operators have a two-month head start in adapting to the Coronavirus and learning how best to manage traffic n combination with social distancing requirements. This has been combined with new protocols for frequent disinfecting or eliminating high touch point areas. Carts are sprayed down with disinfectants, rakes and water coolers have been removed and flags remain in place with Styrofoam or PVC inserts in the cup to keep the golf ball from settling to the bottom.
Many are checking in golfers outdoors, curbside or only allowing one person from the group to check in the golf shop. It all works quite well actually. In the end all courses will adapt quickly, and Virginia course operators will gladly share what works and what does not work with operators in other states. We are all in this together. In the short term, Virginia course operators have had a lot of practice with keeping our golfers safe.
How will my overnight stay be different?
The same applies to hotels, many have stayed open and have significantly changed their practices. These practices include contactless check ins, daily house cleaning only upon request and those that offer breakfast changing to pre-made grab and go bags.
Are the restaurants open? Can we eat in them?
Yes, and yes…sort of.  All restaurants can be open for take out and most have stayed open and are offering curbside pick up. In addition (under phase 1 reopening), Virginia restaurants with outdoor patios can operate outside seating at 50% capacity. We expect by the second week in June (when Virginia moves to phase 2) all restaurants will be open at 50% capacity for indoor dining as well. ** Update 06/05/20 Virginia has moved to phase 2 of reopening and all restaurants are now open for inside dining at 50% capacity**

Virginia Golf Vacations suggestions for traveling golfers during the Coronavirus pandemic
Groups that travel together should also stay and play together. If you are sharing a room that person should be your golf cart partner as well. If financially viable, we recommend individual rooms or a condo where each person can have their own bedroom and potentially bathroom as well. Finally, If you want to eat out, make a reservation or eat at the course following your round. Most golf courses have pretty good restaurants, they are generally under-utilized and almost all have outside dining.
Fortunately for us golfers, golf is one of the safest sports to play during the pandemic. So a golf trip is one of the safer trips you can take.
If you have the itch, we are ready. There is still time for a late spring trip. Also, the pandemic has taught us to think differently about almost everything. June is often a lost month for golf travel. Families are busy with graduations and early summer activities but many of those events have been put on hold this year. This might be the time to explore the benefits of an early summer season golf trip.
Request a Virginia golf trip quote online or call Virginia Golf Vacations at 1-877-806-8163 and we will get right back to you with a trip quote!