Golf Courses in Northern Neck, Virginia
The Northern Neck offers two fantastic course options for a quick golf getaway, with the focus on getaway. The Golden Eagle Golf Club at the Tides Inn is a popular George Cobb design and a former host site of the Virginia State Amateur. Piankatank Golf Club located just across the bridge features a scenic back nine with gorgeous river views.
If you are looking for a quiet couple of days to relax and play golf a Northern Neck Golf trip to the town of Kilmarnock is the perfect golf trip for you.
Featured Golf Course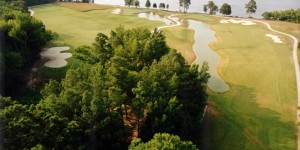 Nestled among rivers and woods in the heart of Virginia's Tidewater area, Piankatank River Golf …